Breeding Program
Three generations of the Meikle Family have managed their Tarwin Poll Hereford herd at their Meeniyan property in South Gippsland, since its beginnings in 1950.
This One hundred plus cow herd is run along commercial lines, with a stud policy requiring every breeding female to produce a calf each year. Cows will be culled on factors such as poor structure and poor temperament. Tarwin bulls are reared on grass and noted locally for their easy temperament. The breeding program has always been aimed at producing easy to manage
functional cattle, suitable for the commercial producer, using the best available bloodlines and technologies.
Currently, all cattle are performance recorded and cattle introduced into the herd are DNA tested. An artificial breeding program is maintained, joining thirty to forty females by AI each year. The herd is regularly displayed to the public during the Stock and Land Beef week.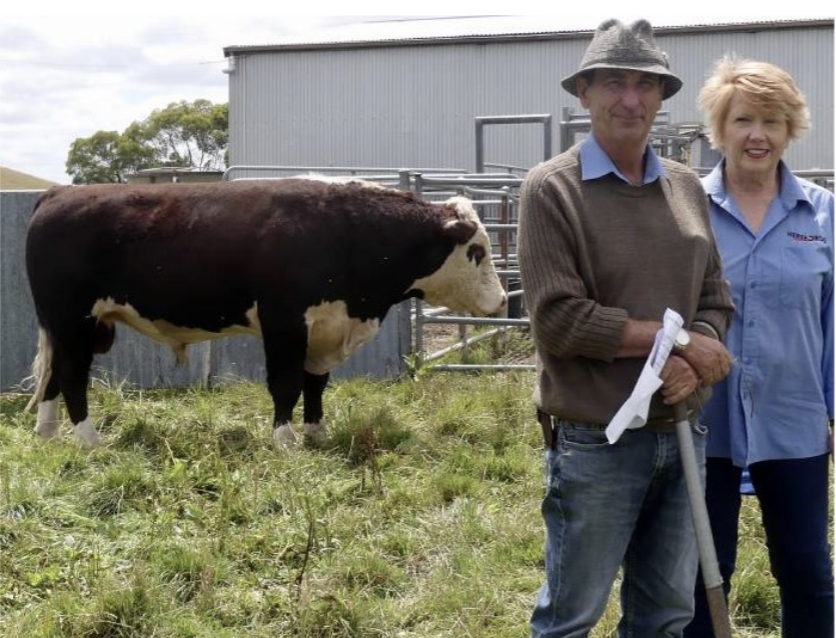 History
Initially the stud began following the requests from local stock agents for sons of Studlea Playmate when his first commercial calves were sold. Playmate, had been selected by Mr Jack Meikle at the 1950 Royal Melbourne Show as a sire for their then new commercial beef enterprise, noting the obvious benefits of using a polled bull. Mr Meikle drew on his knowledge gained as a farm manager in Herefordshire England and hard won experience gained farming in South Gippsland when purchasing foundation females for the stud. Its name was drawn from the Tarwin River, which
crosses the front of the property.
Showing
The baton was then taken up by his son Neville. During the 1950's, Poll Herefords were considered a novelty breed and in order to promote their cattle, the Meikles showed across South Gippsland and further afield to Melbourne and central Gippsland. On occasions, competing in the horned Hereford classes, even though at the time Poll Herefords were considered a separate breed.
In later years Poll Herefords became firmly established in their area, in part due to their efforts, in showing through the 1960', 70's and 80's. As well, Neville was a firm believer in trying to quantify and demonstrate the commercial performance of their cattle by competing in carcass competitions with a significant measure of success locally and at the Royal Melbourne Show.
Carcase Competitions
With the rise of well defined cattle performance recording protocols in the 1970's, the Breedplan program was adopted at Tarwin in the late 1980's and has been maintained ever since.
The herd is currently managed by Neville's son David, who maintains a focus on traits needed for sound practical cattle, these include adequate weight gain, ability to finish, tractability, mothering ability, physical soundness and the cosmetic traits that clearly identify Poll Hereford cattle in the market place.
To demonstrate the performance of their cattle, the Meikles have regularly competed in carcass competitions and the Lardner field day grass fed steer trials. David comments "I like the Lardner trials, we have to compete against other breeds and it allows me to gain some insight into how our cattle compare. Generally we can guarantee to meet specifications and occasionally have a
win." The current crop of stud sires include Wirruna Nolan, Wirruna Lamont, Ravensdale King Pin (son of Anzac E114). Tarcombe Homeland, Tarwin Millhouse and Tarwin Perth.